Tuesday, December 6th, 2005
---
5:47 pm
I cant wait until I dont have to see you anymore.
Wednesday, November 2nd, 2005
---
7:57 pm
cooking meat for laura on the western civ grill, going on archaeological digs in the sandbox and discovering king tut's tomb, apprenticing mr sportiello the most renowned whittler in north america, dressing up as a deer and running into cars, digging holes and waving to the people in china, building food on the sandwich ordering computers at wawa




HAHAHAHAHAHAHAHA
Wednesday, October 19th, 2005
---
7:23 pm
It has come to my attention that I'm left out all the time.
Thursday, October 13th, 2005
---
11:23 pm
It's times like these...when I wish everything was different.
Wednesday, August 3rd, 2005
---
4:35 pm
The more I try to lighten up, become more friendly, and actually decide I like people, the more people piss me off. These kids have a problem with my sister and her friends and they IM her starting shit. This freakin' kid that lives down the street from us, IMed my sister and was making fun of my dad, mom, and brother. I fucking hate him. I really do. I just wish if people didn't like one another, they would just ignore eachother. But that is never the case. I really don't understand why kids are so hateful. This boy will be going to my school, I really wish I could somehow develop guts because if I did, I would make his highschool life miserable. I hope he gets run over by a car. Morbid, but true.
Wednesday, July 6th, 2005
---
9:16 am
Yesterday Molly was out in the yard. We saw a bunnie out there. We wanted to get her inside before she saw the bunny because we didn't want her to scare it. That's when we saw it. Molly came from under the deck with a baby bunnie in her mouth. It was so sad. We checked under there and there were three of them. Two of them were dead, one was still alive. That's why the bunny was there, she was watching. The bunny that was still alive was so small, probably smaller than my hamster. It stayed in the grass and we kept hoping the mom would come back, she didnt. My dad scooped it up and my mom brought it to this place that rescues bunnies and will make it strong enough to go ot in the wild on it's own. I feel sorry for the mother. This is probably one of the saddest things I've ever seen.
Monday, May 16th, 2005
---
5:07 pm
Reel Big Fish is playing at Starland Ballroom on my birthday, June 24th. I haven't been to any shows this year because, well, I just didn't feel like it. But, I think I', going with my mom to see RBF. AHH. Aaron<3.

My lincenseeeeeeee and RBF!
Saturday, May 14th, 2005
---
2:55 pm
What in the HELL is going on? First, Joel and Hilary....now, Josh and Kelly? Next week I'm going to hear Benji is dating freakin' Lindsay Lohan.


Sunday, April 24th, 2005
---
12:59 am
I never write in here...

I don't even know what to say because it's been so long.

Umm, Today is my anniverary. I've been a vegetarian for two years. Go me.

This week coming up is our spring break. I'm very excited to have a week off. Plus, I took off Thursday and Friday because I had food poisoning, which was soooo much fun!

My dad was on crutches for awhile. I tried them out, they hurt your armpits.

I got A's and B's on my report card, I missed Honor Roll by one C, which is the usual.

Uh, one of the girls from Survivor that I want to win is dating a teacher in my school, how cute.

Mr. Ruddy moved far away, I'll never see him again. How sad. :(

It is currently 1:04 and I'm very tired, but I'm in myspace chat room with Lindsay.

I deleted myspace.

Molly and I are in love. <3

I went to the mall yesterday and got Mother's Day presents for Yaya and Mom. I got Yaya a little elephant and mom a big candel, my momma loves her candels. Lindsay might get a job at Dry Ice, which is only like the coolest store ever.

I was watching "Growing Up Gotti" the other day and I saw John Gotti. He actually IS kibda handsome, he reminds a little of Melissa's boyfriend Dan. So then, I started thinking about Melissa and how I miss her. She's a babe and a half. I'm gunna text her tomorrow.

Lauren's pregnant and her whole family is very excited. I'm excited for them, although I'm happy it's not me.

My throat is sore and my allergies are being a real pain. UGGH.

I ran out of books AGAIN. I need to go the library.

I'm tired and am looking forward to my break. Hellz e-ah.

Oh, and one of my favorite comedians passed away about a month ago. It was sad.

I met Benji and Joel 3 years ago. How odd.
Sunday, March 27th, 2005
---
8:52 pm
A lot has been going on lately.

Tonight Uncle Bill, Aunt Donna, Jamie, and Matt came over. It was a lot of fun. Some days make me really happy. Jamie is getting a gray kitty. I can't wait to see it.

I've been hanging out with my friends more lately. That's always good.

I have a lot to say but... HELLO Surreal Life is on.

Later.
Friday, March 4th, 2005
---
7:12 pm
My plans are ruined tonight...again.

I'm beginning to realize sometimes I'm not even invited at all.

I should be offended.

Math HSPA Monday. I'm freakin' scared.

Stupid middle schoolers were sitting outside my house. They obviously wanted my sister but are to sissyful to ask for her.

I wanna see Stella so baddddd. NOW! That would be so great.

I have Bio homework. 20 questions, plus I need to study for the Bio test and for Math HSPA.

I love this ghetto sophomore kid. He's the nicest person ever. Haha. Taking Back Monday...

I'm way to distracted to write anymore.
Wednesday, March 2nd, 2005
---
6:22 pm
I'm so tired. I just a woke up from a nap though... Everyone tells me I sleep too much.

I've been listening to The Postal Service like crazy.

Friday we had no school. Monday we went home early. Tuesday no school. But now, The HSPA's have begun. We had this stupid picture prompt, and persuasive essay. All really important stuff like that...pshh.

After the HSPA's the day did go by rather quickly. My favorite part was in History when we watched political skits from SNL. It was great.

I'm happy because I've been talking to Lauren again. She's probably the oldest friend I have that I still talk to.

I keep seeing stuff for this freakin' bamboozle festival. What the hell is up with that? It's like right before Skate and Surf, IN ASBURY, it's like the stupidest I've ever heard of.

Oh, AND they already have bands up for Warped Tour. But not Skate and Surf. Go figure.

I was reading my Deadjournal the other day. It made me laugh. It was pretty informative though. Lots of stuff happened that I forgot about.

So, I think I finally know what I wanna do with my life. It's very different from where I saw myself though. I've been looking at schools and stuff though.

Kurt Cobain was basically following me around today. So, my mom drove me to school. She accidentally went passed where she usually goes. So, we go the longer way. This guy in his car looked exactly Kurt. Like, If you told me that was him, I would have belived you. Then, I get into Mr. Sierras class and a kid did a poster on Kurt in spanish. There is a big picture of him on it. I'm like "woah." Then, Lindsay shows me this piece of paper where you write suggestions for prom songs. She was joking around and put like Slipknot, and a Nirvana song! I was "I think Kurts haunting me today.."

I was thinking about my Uncle Nick the other day. I remember when I was little and I would sleep over Yayas house some weekends. Uncle Nick would play his Beatles records and we would dance around. He would swing me and Sam around the room. Things were so simple then. I wish I could go back sometimes.

current mood:
indifferent
Friday, February 25th, 2005
---
7:23 am
I just love people that make fun of others religious beliefs. You are REALLY COOL!

Not.

Oh yeah, and myspace was annoying me really bad. So, I deleted about 100 people and deleted half my pictures. More deletion is on the way.

I hung out with Patti and Lindsay yesterday. It was fun.

I'm up so early because I thought I had school today but, apparently I do not. Which is fine by me.

Skate and Surf is in May. Part of me wants to go, the other doesn't. But, that part of me that wants to go needs to shut it because, I have no one to go with.

My mom rented Garden State and I intend to watch it today.

I'm so nervous about the HSPA's. I'm going to study like a mofo for them this weekend.

I wrote this long note to one of my friends about how I was feeling about something that happened months ago, now months have passed and more shit has happened, and still haven't given them that note.

Well, I got a new book called FADE and its supposed to be good. Since I can't fall back to sleep, I might as well go and read.

Later LJ.
Saturday, February 12th, 2005
---
5:24 pm
This past week has been pretty hectic. I thought last year was hard...with losing Jake, Uncle Nick, Grandpa, and whole lot of other stuff going on at the same time. This past week has been hard too, a lot of stuff has been going on, three MAJOR things...I just can't deal with stuff like this anymore. I'm so sad. The only person I can talk to is my mom. I love her so much.

The only thing that makes me happy right now is the fact that Dad and Mom picked out a car for me they think would perfect, and I'm getting it in May. It is the cutest ever. And the fact that I'm going to Myrtle Beach this summer with Jamie and Melissa.

Right now I have to finish my English essay and get dressed if I plan out going out to dinner with Lindsay, Patti, and Pete.

Later.
Friday, February 11th, 2005
---
3:13 pm
I've decided to definitely delete this journal. I'll IM you guys when I get a new one.
Tuesday, February 8th, 2005
---
5:07 pm
My mom just told me that we may be going on vacation this summer to a island or something with Uncle Bill and his family. I'm so excited. This will totally make my summer.
Monday, February 7th, 2005
---
7:33 pm
I don't know what I want to do with this journal, I think I may delete it and get another private one. Hmm let me decide.

P.S. I'm sorry I've been neglecting you. A lot of things have been going on.
Thursday, December 23rd, 2004
---
9:41 pm
- It dont mean a thing if it aint got that swing.
Em0tional x Me: it dont mean a thing if it aint got that swing
KeLLiHoRsEs 11: doo-wah doo-wah doo-wah doo-wah doo-wah doo-wah doo-wah doo-wah doo-wah doo-wah doo-wah doo-wah doo-wah doo-wah doo-wah

Rock.

Yeah, so in history we watched Swing Kids with Christian Bale. I actually really liked it. I cried at the end, it was sad. Nothing like a good cry 1st period. Not. How embarrassing.

We had the Christmas party for Child Development today. I was sad. We aren't gunna see the kids until March.

Geometry and I aren't friends, at all. And over break, what do I have you ask. A Geometry project!

I don't like when people take advantage of me. I was gunna stand up for myself and I even wrote this whole thing out, and realized it wasn't worth it. I won't forget it though. Grrr.

Skate and Surf is in May this year, which is odd. I don't know if I wanna go, it's weird. I don't like the things I used to love anymore. I haven't had the desire to go to any concerts, listen to music, and I haven't touched my bass or guitar. It isn't me at all. Everything feels like a disappointment now adays.

Lindsay is getting Napoleon Dynamite for Christmas and says its the best movie ever, I wanna see it, bad.

I can't wait for Christmas, I love it so much. Everything about it. I'm excited.

I really need to clean my room, but at the moment I'm too lazy. Tomorrow, before I go top Aunties I will, I swear.
Tuesday, December 21st, 2004
---
6:38 pm
Flash back. 8th grade.

All my friends. My crush on Matt. My obsession with Good Charlotte. Being on the phone constantly. Sleepovers. Hide and Go Seek in the dark. My strong attachments to a lot of people(my best friends). The pathway to Jades and Colls. The 6th grade boys.

Everything about my life has changed, I've changed some, but not as much as some would think. It's funny. I miss it, most of it. I'm not saying I'm not happy with how some things are now. But, being in 7th and 8th grade, and having those people in my life, I knew where I stood.

I'm not really complaining, just thinking.

Well, here I am, now in 11th grade. My sisters birthday was yesterday, she was 13.

I hung out with Viv and Evon today. Something I haven't done in awhile.

I'm getting absolutely no break this week in any of my classes. Plus, they are all full days. I have four tests tomorrow, I will fail them,no time to study.

We are going to see the lights tonight, and listen to Christmas music on the way. <3
Sunday, December 19th, 2004
---
8:40 pm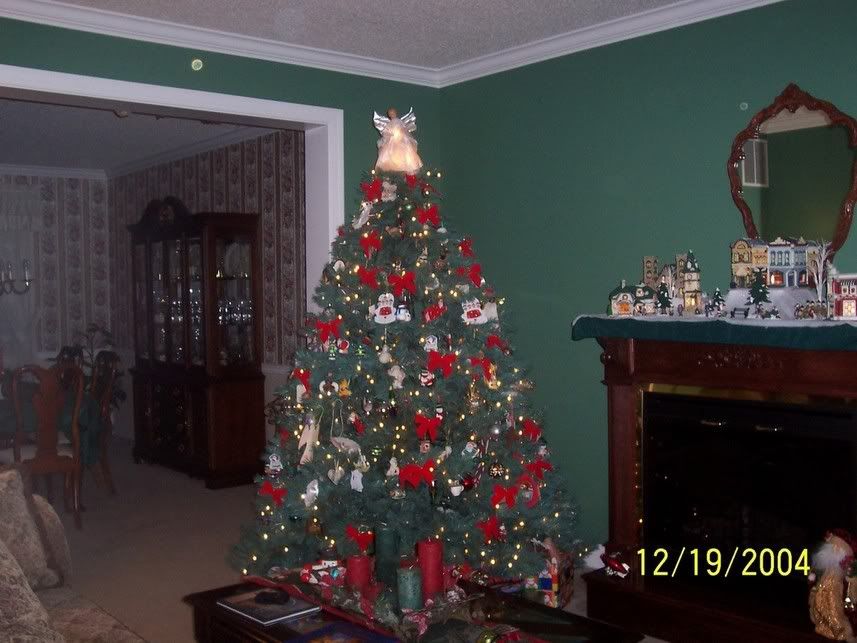 Pretty.


By the way, Evon and Kevin stopped by yesterday, and Evon's new car is pretty.
---